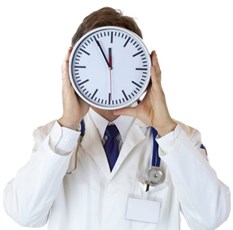 Working SMARTER - Embrace Technology

How often have you heard healthcare professionals complaining about their lack of time to get their work done? Of all complaints we make, this is probably by far the most common. How often do we wish that we could add extra hours to the working day in order to get more work done and not cut into our leisure time?
Whilst it is not possible to add these extra hours to the day, there are certainly effective ways to maximise the existing time we have by making our use of it as efficient as possible working on the wards, offices, clinics and theatre.
Without being aware of it, we often waste a great deal of valuable time on needless tasks when we could be using that time to do essential work.
Identify Your Common 'Time Thieves':
To identify your own 'Time Thieves' try keeping a log for a week of what you do during your working day; projects worked on or procrastinated over, tasks carried out, conversations held with colleagues, telephone calls etc. Identify the ones which were needless, or that took longer than they should have. Then calculate how much time you could have gained if they were eliminated or reduced. Surprised? Working smarter will save you time and help you reduce stress levels.
So how do we do it?
Apply the 4 D's to ever task you touch –doing 1 of these 4 things every time – and I mean every time!
Do it –only if it is urgent and essential to do it now
Diary it -There are some things that feel more urgent or important than they actually are until you compare them to your actual goals. What can you delay that will free up time to plan to be more organised. –Assign it to your electronic calendar with a reminder and synchronise your devices so you don't miss anything important.
Delegate it – explain the process well and you are building a skill in others.
Drop it- The easiest way to gain more time is to not do something that isn't especially important in the first place. How many things do you think you have to do that you could actually drop without really changing anything? Once you've figured out what those are, drop them. Get them off your list and get them out of your head. Think of one thing right now that you can drop completely.
Doesn't that feel better? 
Have some meeting home rules
Meetings also cannot be removed for obvious reasons, but they can be made far more efficient. Too many company meetings drag on unnecessarily because of a lack of structure, discipline and by having needless people there. To avoid this, make sure that meetings start and end on time – if someone is late, then they will have to cope with this themselves when they arrive. They were late; it should not have to affect you too. Make sure that the agenda is followed, and that those in attendance are essential. Try to avoid unscheduled meetings falling in the middle of you doing other work, but schedule them for a more convenient time. If they really cannot wait, keep them short.
Arrest your time thieves
The biggest time thief of all is without a doubt the trivial tasks that we do in order to put off more essential work. It is a natural inclination to put off the hardest and most complicated work for as long as possible, by often doing other, less essential tasks first. In order to overcome this, make a list of the tasks that you need to get done, and determine whether they are essential, desirable or non-essential. Determine when you're most productive period of the day is, and assign the essential tasks to then. Do not try and put them off – they need to be done, and rapidly. Intersperse those essential tasks with the desirable tasks to break down the slog of doing the essential tasks. Consider delegating the non-essential tasks, or perhaps even removing them altogether.
Routines helps
By making these changes, you will find yourself gaining time where you previously did not have it. Maximise this gained time by having a weekly schedule of work that needs to be done, and when you will do it. i.e.  Checking emails – x-rays, lab work etc. first thing in the morning .Whilst it does not need to be totally inflexible, it will at least give your working week a structure. Put it into your diary, so if something else comes up you know that that time is already committed to something else.
One of the best and easiest things you can do to save time may seem the simplest – tidy your workspace. A tidy desk can save an endless amount of time, allowing you to gain access to files and equipment much more rapidly than from under piles of paperwork in a chaotic mess!
By making these alterations, and carefully planning your time, you can create yourself extra time, by not even adding hours to the day! By effectively using your time you can reserve your leisure time for yourself, and hopefully banish those nights of having to stay late to finish work.
Working SMARTER –Embracing Technology is a NEW 1 day course with 6 CPD points
Chris Dalzell
Relationship Director
Course Title:
Working SMARTER - Embracing Technology
Who Would Benefit:
The main aim of this course is to help doctors to be able to identify personal preferences which influence the management of time, tasks and their personal organisation. They will develop skills in objective setting, organising and planning and be able to demonstrate proficiency to manage themselves and the multiple teams they work with i.e. Ward , Clinic and Theatre.
Course Description:
The course look at embracing the use of technology to help you work more efficiently. We will utilise a 'Time log', which each delegate will use to keep a record of his or her activities prior to the course starting to help you identify their 'Time Thieves' (this can be sent out with joining instructions)
CPD Points: 1 day – 6 CPD points

Course Category: Personal Development in healthcare

Recommended No. of Days: 1

Can this course be nationally accredited?: Yes

Course Location: To be determined by Client
Learning Outcomes:
At the end of this programme the delegate can:
Improve Interpersonal skills - across all teams

Recognising priorities – across all teams

Deal more efficiently with Personal organisation

Work to a time scale and achieving goals

'Arrest'  their time thieves
The Programme Includes:
Welcome and introduction

Developing personal objectives

Why people fail to manage time

How effective are we currently?

The importance of goals

Dealing with dead time, delays and down time

Combating procrastination – Apply the 4 D's

Communicating your plans –vital in leadership

Effective delegation

Negotiating with colleagues and seniors

Task Management

Review personal objectives, summary & close